RUSHING TO PROVIDE BETTER HOUSING BEFORE WINTER, BINAA CONTINUES TO RESTORE MORE BUILDINGS AND HOUSING UNITS
Within the ongoing initiatives conducted by BINAA for Development in the Idlib governorate over the last several years, the Organization's construction and restoration teams launched a new project to build and rehabilitate additional buildings and housing units in a number of villages and towns across the Idlib countryside to house Internally Displaced Persons (IDP).
The teams are currently restoring other damaged or uncompleted buildings and housing units in several areas in Idlib. Once completed, the rooms in these units will be prepared to accommodate displaced families in the northern Syria region. Construction work is underway in the cities and towns of Salqin, Harem, Kafardarian, Al-Dana and Sarmada. Around 900 IDP families are expected to benefit from these units.
The main goal of the project is to provide adequate living conditions for the many displaced families residing in informal settlements, schools, or temporary camps. These families can stay rent-free for an entire year in the renovated rooms, which will be equipped with basic necessities.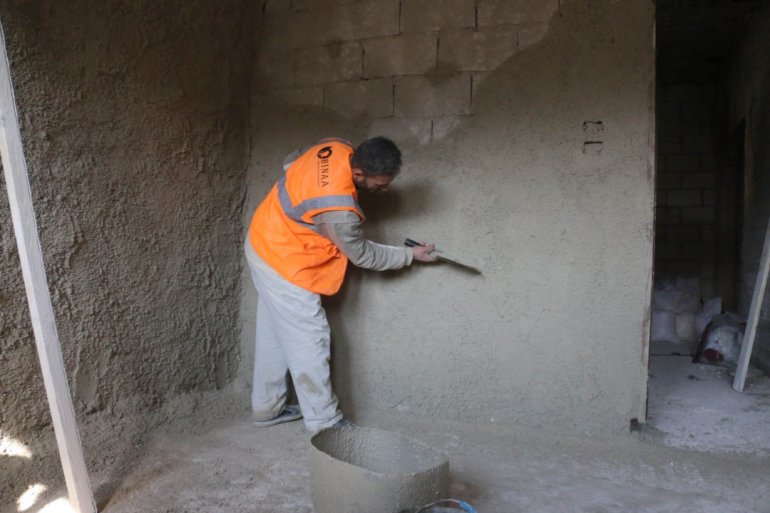 Via this project, BINAA for Development seeks to reach the most affected families and improve their living conditions. As such, the Organization's teams are working rapidly to prepare the new units for their residents before the onset of winter.
By utilizing all available resources and capacities for this project supporting IDP communities in Northern Syria, BINAA strives to address several needs simultaneously: creating job opportunities through its cash-for-work program; restoring uncompleted and damaged buildings to provide housing for IDPs; and contributing to making schools and other buildings and facilities – currently used as housing – available to serve the community.
This and similar initiatives will meet only a fraction of the needs of displaced persons in Northern Syria today. More support is necessary to address the growing humanitarian needs of these communities.